Refresh Your Home Decor With Photo Art
Learn how you can create highly quality, personalised household decor items quickly and easily using your smartphone and a few basic items.
All you'll need is an afternoon, and your phone to get started. You can even get the kids involved in creating some craft and editing their favourite photos.
Create a Family Feature Wall
We love the idea of creating a removable wallpaper photo collage using your family photographs.
You'll be saving yourself some extra housework by getting rid of dust-collecting picture frames, as well as giving your living space a modern lift.
You can create a photo collage of your favourite pictures, or you can choose to have one picture as your display piece.
To create a photo collage of a high quality that you can send to a wallpaper manufacturer, we recommend trying out the PicsArt app (see below) on your phone or computer.

Here's an example of a photo collage we made:
Photos: Pixabay, collage made with PicsArt.
Where can I get photos made into wallpaper?
As removable wallpaper has grown in popularity Australian manufacturers have stepped up to the plate with some great quality products you'll be able to hang and rehang to suit your needs.
I've found three places in Australia who'll take your cherished photos and create a wallpaper you can remount as you please. The first two are Melbourne-based, but ship Australia-wide.
Pickawall can take a photo or photo collage that you design, or even give you a hand to put one together, and create a wall piece you'll treasure. You can check out their Pinterest Board here for inspiration and ideas.
Removable Wallpaper's point of difference is an eco-friendly non-woven wallpaper made from natural and synthetic fibres, that's removable, washable and breathable.
It's also mould resistant, making it perfect for bathrooms, kitchens, laundries and humid climates. Have a look at their Instagram account for more wallpaper inspiration.
DesignMyWalls is an Etsy store based on Australia's Central Coast, specialising in creating customised removable wallpaper using a woven polyester fabric.
Before you place an order for removable wallpaper, make sure that you measure the wall space where you'll hang it so you know what size to order.
You might want to consider the colour scheme of the room. If there's already a lot of bright colours, maybe you'll get a collage featuring black and white images.
Here's a great example of thoughtful wallpaper matching from Removable Wallpaper:
Photo: Instagram/Removable Wallpaper
This type of wallpaper can be removed and remounted or stored if need be, it'll become something personal to make a new house feel like home right away.
Planning a Mother's Day present?
Spending some quality time with your mum will give you a chance to hear her favourite stories and put together something that's going to be extra personal and special.
Take your time to select images that tell a personal story - most mum's love to get out the photo album or go through slides of their favourite photo memories.
Installing the feature wallpaper
To install the wallpaper, you'll need a tape measure, a straight edge level and a pencil. It'll only take 15 minutes so you can sneak it in while you distract mum with other activities.
Where to get great quality family photos
The great news here is that most modern digital cameras and smartphones take great quality pictures, so you don't need to pay a photographer or buy a fancy camera.
As long as your device is taking photos that are 8 megapixels or larger, you'll have an image that can be enlarged without compromising quality.
Check that your camera hasn't been set to take low resolution photos to save space. When you email or crop the photo the resolution may be reduced so be aware of this.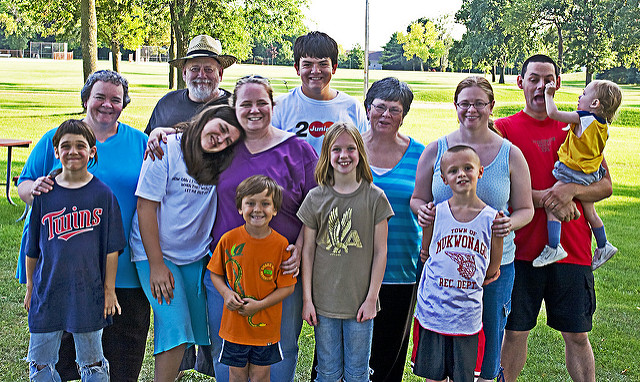 Photo: Flickr/Randen Pederson
Photos that are taken through apps such as Instagram or Facebook are generally smaller files for publishing directly to the web, so take photos you want to enlarger later on using your phone's camera and save the original.
Bonus photography tip
The time of day that you take your pictures will make a big difference.
Aim for the golden hours, early in the morning and late in the evening when the sun is low in the sky.
At these times the light is softer, and more flattering to the objects in your picture.
If you're taking photos through the middle of the day, shooting in the shade will avoid sharp shadows breaking up your picture.
Get professional results with photo-editing apps
Many cameras and phones come with photo-editing capabilities built in. However, if you're looking for a really professional finish to your photos before you print, here's a few of my favourite photo editing apps:
PicsArt

This is an amazing image editor that will give you a Photoshop like result using photos from Facebook, Flickr, Instagram, Picasa, Google or Dropbox. You can create collages with your photos, perfect for designing a removable wallpaper feature.
It's the most versatile platform I've found to take your photo art to the next level, and easy enough for anyone to master.

Adobe Photoshop Lightroom

Lightroom is now free for both iOS and Android, so you can use this trusted software to edit and reverse edits as you perfect your pictures.

You can also share pictures straight to social media.




Snapseed

With Snapseed you can add specific focus to portraits, adjusting lighting to highlight the face and eyes.

You can add a 'glamour glow' to portrait shots too.

It's a simple app to use, and doesn't have any of the features like frames or cartoons, though you can add text to a picture, perfect for updating the family portraits to make sure that you're truly showing your best side.

VSCO

This app is for the passionate photographer, whether you're an amateur who takes pride in your work or a professional.

A little like Instagram, it provides a community of photographers, but without the 'comment and like' facility, taking a more serious approach to the appreciation of beautiful imagery.

Photo Editor by Aviary

Available on both iOS and Android, this app makes it easy to erase blemishes and whiten teeth. It's integrated with professional photography service 'Behance'.



It's also got filters, stickers and frames.

The best feature is the really easy ability to adjust the horizontal and vertical angle of the photo to correct for the iPhone wide angle lens and produce an end result that's in proportion.
More creative home decor photo displays
Some other cool uses for your photos are to print onto cotton. You won't need a fancy tool, just a regular inkjet printer, greaseproof baking paper, a hot iron and the fabric you want to transfer the images onto.
Another idea for your photos is to make a small case to hold mum's phone and other odds and ends.
If you choose a natural fibre fabric without a synthetic finish, the fabric should should still be washable after you've applied the image.
You can use the fabric to make cushions, a temporary chair cover, the limit is really your imagination!
Get the kids involved in a craft project
Another cool use for photos is to copy the image onto a glass jar. You can use the jar as a table water bottle, a candle holder, or even a set of unique water glasses.
Using one of the photo editing apps above - I recommend the B&W HDR filter in PicsArt to turn your photo into a high quality black and white image with sharp definition.
The B1 filter from VSCO also gives a nice sharp finish. Doing this first will give you the clearest result when you print and transfer the picture.
You can use contact paper, or even packing tape if you want to do a quick project yourself or get your kids involved.
Photo: Flickr/Suzette
Personalised vintage home decor
For a more professional photo transfer, you can use a laser printer image to create a photo transfer that can be applied to glass, fabric or wood.
I'd recommend using the photo editing apps first to ensure you get maximum contrast for a great end result.
When you print you'll need to reverse or flip the image so that when you apply it to a jar it's not backwards.
7 steps to create your first photo transfer
The first time you do this it might pay to print 2 pictures. This means if you rub the first one too hard, you've got a backup. It might take you one go first to get your technique perfect.
You can set up your workspace with grease-proof paper so the glue doesn't stick to the benchtop while the photo transfers are drying.
Trim the picture to fit the place where you want to apply it.


Paint the front of the photograph with a thick layer of high quality craft glue, sometimes referred to as a 'gloss gel'. We tried Mod Podge photo transfer medium from Spotlight, or any craft store. This is the key step in the process, so make sure the coat is nice and thick.


Allow to dry overnight. It might take longer in a humid climate.


Moisten the paper back of the picture. Once it's damp enough, you'll be able to rub the paper back off, and the image will have transferred to the thin layer of gel.


It's okay if you don't get it right the first time - this part takes a lot of patience and care, and if you do tear the picture, you'll be learning about the correct technique you need to keep it intact.


You're going to get a vintage style image which you can now apply to a jar or any household item of your choice. If you're applying the transfer to fabric, it will be washable.


You can seal the picture using a clear craft glue. If you've applied the photo to glass or to fabric, it should be washable once it drys.
I hope you love some of the ideas above and get some inspiration for innovative ideas to display your favourite photos in a new way and update the look of your family home.